U P C O M I N G
---------------
ZERP GALERIE - ROTTERDAM
SERENDIPITIES
Duoshow Judit Hettema, Michiel van Bakel
10 June - 8 July 2018
Opening reception: SUNDAY 10 JUNE 3-5 PM
From 10 June until 8 July 2018, ZERP Galerie Rotterdam proudly presents
SERENDIPITIES, a duo exhibition by Michiel van Bakel and Judit Hettema.
Unexpected discoveries play an important part in the practice of both art-
ists. Hettema presents a.o. her series ' MONUMENT', photographic reliefs
created with an experimental printing technique. Van Bakel embraces the
surprising imperfections of the self-made camera.
---------------
VALKHOF MUSEUM - NIJMEGEN
GROUPSHOW
99+1 / Kunst van eigen bodem...
&
BOOK PUBLICATION
'99+1 – Vrije Kunst in Nijmegen'
Exhibition 9 June - 16 September 2018
Opening Reception: Friday 8 June 19.00hrs - 22.00 hrs
At 7 PM the exhibition will be officially opened by director Hedwig Saam
and during the evening there will be the book launch of the publication
99+1 – Vrije kunst in Nijmegen, written by Nico Huijbregts, designed
by Pascale Companion & photographer Inge Hondebrink.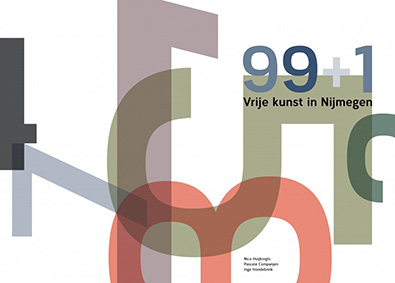 More info on the book click here.

---------------
GALERIE DE NIEUWE GANG - BEUNINGEN
satellite show of Valkhof Museum
99+1 REVISITED
Exhibition 17 June - 29 July 2018
OPENING RECEPTION: SUNDAY 17 JUNE 2018 from 15.00 hrs